CBSE
Requirement
SCHOOL PARTICULARS AS REQUIRED BY CBSE
1. Progressive English School, Wadihuda, P.O.Payangadi, Taluk-Payyanur, District-Kannur
(i) Email : info@progressive.edu.in
(ii) Telephones : 0497-2873587
2. Status of Affiliation : Affiliated to central Board of Secondary Education
(i) Affiliation No. 930127
(ii) Affiliation with the Board since : 1995
(iii) Extension of affiliation up to : March 31, 2025 (Applied for Extension of affiliation)
3. Infrastructure Details:
| Room | Number | Length (in ft.) | Breadth (in ft.) |
| --- | --- | --- | --- |
| Class Room | 61 | 6 | 6 |
| Composite Science Lab | 1 | - | - |
| Physics Lab | 1 | 16 | 6 |
| Chemistry Lab | 1 | 15 | 6 |
| Biology Lab | 1 | 12 | 6 |
| Mathematics Lab | 1 | 6 | 6 |
| Computer Science Lab | 1 | 12 | 6 |
| Library | 1 | 16 | 6 |
| Other Rooms | 3 | 16 | 6 |
4. Class wise strength of Students: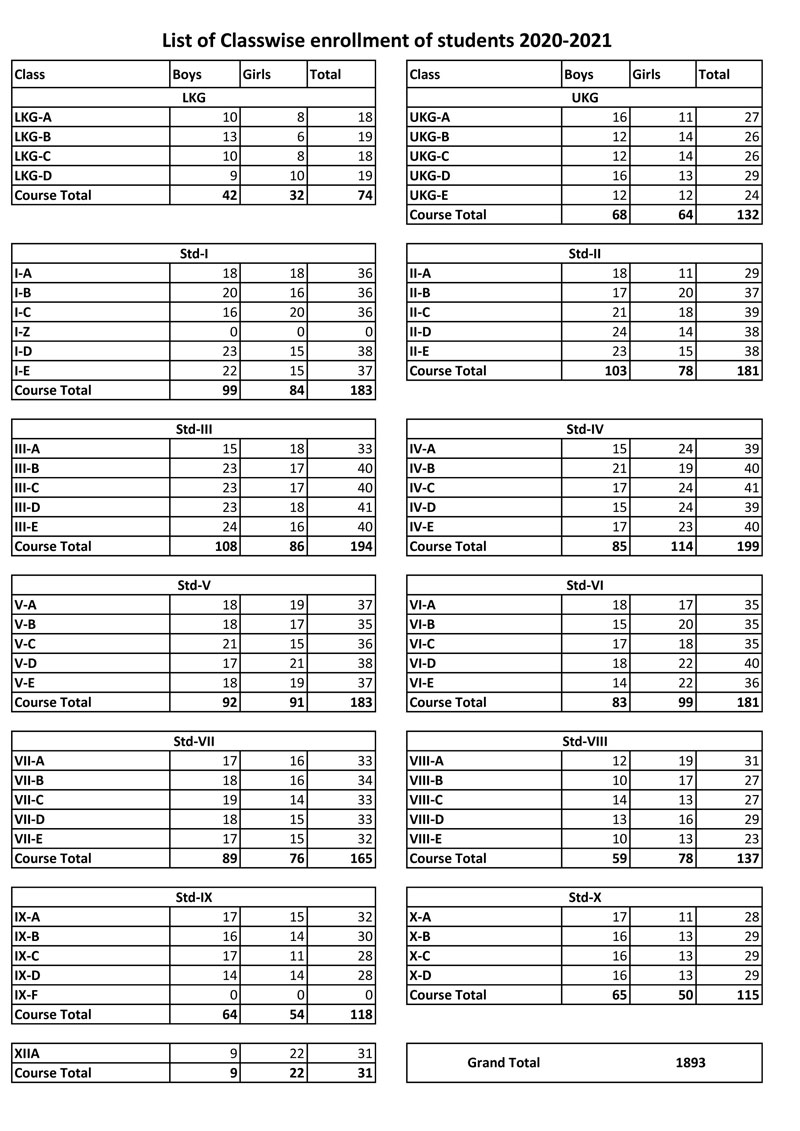 5. Fee Structure:
| Class | I Term | II Term | III Term |
| --- | --- | --- | --- |
| LKG | 7,950 /- | 7,730 /- | 10,800 /- |
| UKG | 5,950 /- | 5,810 /- | 7,700 /- |
| I | 4,070 /- | 3,970 /- | 5,800 /- |
| II | 4,150 /- | 4,050 /- | 5,900 /- |
| III | 4,470 /- | 4,370 /- | 6,300 /- |
| IV | 4,470 /- | 4,370 /- | 6,300 /- |
| V | 4,590 /- | 4,490 /- | 6,450 /- |
| VI | 4,990 /- | 4,890 /- | 6,950 /- |
| VII | 5,150 /- | 5,050 /- | 7,150 /- |
| VIII | 5,150 /- | 5,050 /- | 7,150 /- |
| IX | 5,630 /- | 5,530 /- | 7,750 /- |
| X | 5,630 /- | 5,530 /- | 7,750 /- |
| XI-SC | 10,690 /- | 7,090 /- | 9,700 /- |
| XII-SC | 7,190 /- | 7,090 /- | 9,700 /- |
6. Academic Calendar 2019-20: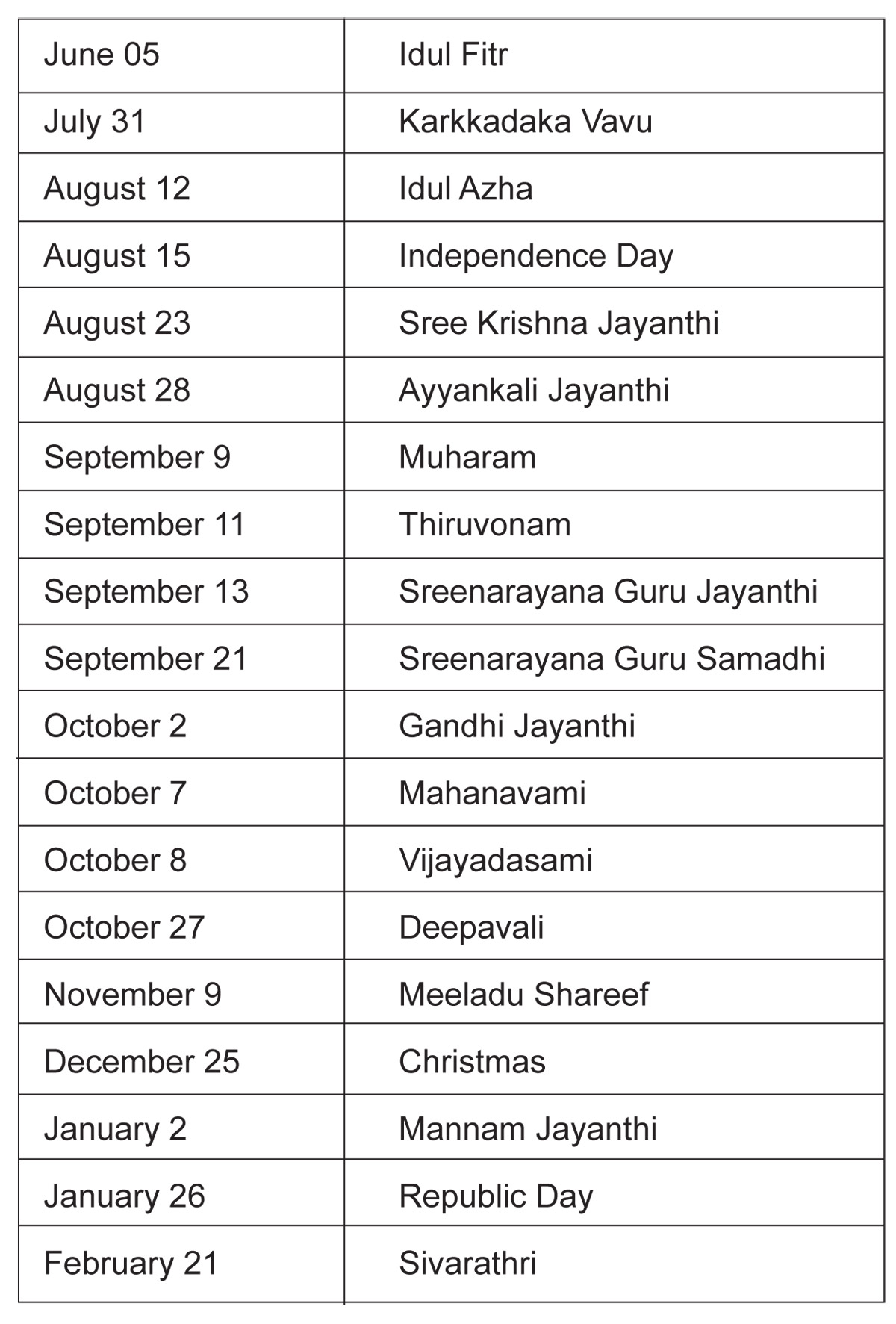 7: School Managing Committee:
| # | NAME | FATHER/SPOUSE NAME | DESIGNATION IN SMC | PHONE OFFICE | MOBILE | OCCUPATION WITH ADDRESS | RESIDENTIAL ADDRESS |
| --- | --- | --- | --- | --- | --- | --- | --- |
| | Mr. S A P ABDUSSALAM | P O P ABDULLAH HAJI | CHAIRMAN | 7025280177 | 9447643994 | MANAGING DIRECTOR, WADIHUDA GROUP OF INSTITUTIONS | MARWA , ERIPRAM , P.O.MADAYI, KANNUR-670304 |
| 1 | Mrs.SUJITHRA R | E K RAMAKRISHNAN | MEMBER SECRETARY | 4972871513 | 7025280179 | PRINCIPAL PROGRESSIVE ENGLISH SCHOOL P O PAYANGADI | SREE NARAYANALAYAM ADUTHILA P O PAYANGADI 670303 |
| 2 | Mr. MUHAMMED SAJID P K | A K ABDUL KHADER | MEMBER | 7025280187 | 9446706868 | ACADEMIC DIRECTOR OF WADIHUDA GROUP OFINSTITUTIONS | MEHFIL, MOTTAMBRAM, P.O. MADAYI , KANNUR -670304 |
| 3 | Mr. FAROOK USMAN | USMAN N | MEMBER | 7025280188 | 9895978400 | DIRECTOR ADMINISTRATION AND FINANCE, WADIHUDA | BUSHRA MAHAL, KOYAPPARA, P O KUNHIMANGALAM, KANNUR |
| 4 | Mrs. HASEENA V K | NASEEM K P | MEMBER | 9995181652 | 9995181652 | HOUSE WIFE, GRACE MOTTAMBRAM P.O.MADAYI KANNUR 670304 | GRACE MOTTAMBRAM P.O.MADAYI KANNUR 670304 |
| 5 | Mr. NAZEER M | EBRAHIM KUTTY E | MEMBER | 9447074917 | 9447074917 | BUSINESS MAILANCHIKKAL MARAKKAVALAPPIL P O PAYANGADI | MAILANCHIKKAL MARAKKAVALAPPIL P O PAYANGADI |
| 6 | Mrs. ROOPA O P | MOHANAN P P | MEMBER | 4972873587 | 8547961922 | TEACHER PROGRESSIVE ENGLISH SCHOOL P O PAYANGADI | SREERAGH ALAVI (P.O) PUTHIYAPPARAMBA KANNUR-670358 |
| 7 | Mr. YAHIYA V U | P K UMMER | MEMBER | 4972873587 | 7025280178 | VICE PRINCIPAL PROGRESSIVE ENGLISH SCHOOL WADIHUDA | ANUGRAHA SHANTHI GIRI CHAPPARAPADAV (P.O) KANNUR |
| 8 | Mr. ABDUL MAJEED P | ALI A | MEMBER | 9446646294 | 9495546294 | TEACHER , GOVT HIGH SCHOOL, TRIKKARIPUR | FAREEDA NIVAS, N/R GRAMIN VAYANASALA, P.O.MATTOOL |
| 9 | Mrs. KHADEEJA S V P | ABDUL KHADER T V | MEMBER | 4972844725 | 9447936964 | TEACHER, MRUP SCHOOL MATTOOL | LOVE DALE, MUTTAM, P.O.VENGARA, KANNUR-670304 |
| 10 | Dr. RANI S D | MANI LAL | MEMBER | 4972805063 | 9562041363 | PRINCIPAL KENDRIYA VIDYALAYA EDAT PAYYANNUR-671314 | PRINCIPAL QUARTERS KENDRIYA VIDYALAYA PAYYANNUR-671314 |
| 11 | Mr. MURALIDHARAN T | Late NEELAKANDAN T | MEMBER | 4985224000 | 9446011714 | PRINCIPAL KENDRIYA VIDYALAYA EZHIMALA | N/R-KORAN PEEDIKA PARIYARAM KANNUR |
| 12 | Mrs. SAJIDA P T P | V K ABDULLA | MEMBER | 9895493943 | 9895493943 | HOUSE WIFE, THANAL, P.O.VELLUR, PALATHARA, KANNUR-670307 | THANAL, P.O.VELLUR, PALATHARA, KANNUR-670307 |
| 13 | Mrs. SHAREEFA HARIS | M V C MOIDEEN | MEMBER | 9961417107 | 9961417107 | HOUSE WIFE, SANTHWANAM, N/R-OLD JTS ERIPURAM, P.O.PAYANGADI | SANTHWANAM, N/R-OLD JTS ERIPURAM, P.O.PAYANGADI |
| 14 | Mrs. JAMEELA | MAMU PALASSERI | MEMBER | 4985201374 | 9947735114 | TEACHER, LATHEEFIYA ARABIC COLLEGE, PERUMBA | AMINA MANZIL, P.O.PAYANGADI (RS), KANNUR-670358 |

8. Annual Report 2019-20
"Every individual has a lot of potential, and that potential can help accomplish wonders". The session 2019-20 was a great year, and it is a moment of pride to showcase all the achievements and development that the school, staff and students undertook. We accomplish our vision '' To be the center of excellence nurturing leaders to be an ideal society" by providing 360 degree education to our students through best in class academic facilities and churn out citizens who are inspiring leaders with a human touch.
The academic year 2019-20 commenced on June 10 with 1950 students on the roll and 90 teaching and non-teaching staffs.
Excellence in academic is the hallmark of any good institution and class X and XII results of the school prove that our students have made us proud with 100%.In class X, Fathima Palot secured 7th rank all India level making us elated for her achievement.
To inculcate good reading habits among students Vayanavaram was observed from 19th to 4th July. Mr. C.M Vinayachandran, renowned writer and orator inaugurated the week. The literary club conducted various programmes like quiz competition, poster making competition etc.
The teachers and non-teaching staffs of our school were accorded with token of appreciation by the management in recognition of their immense and irreplaceable contributions as the school completed its twenty five years of service.
Declamation competition was held on 27th June to develop communication skills and to enrich critical thinking among students. To ensure that our students are well equipped with knowledge to face with any challenge, Safety Education was held.
"Each one plant one"- massive plantation drive was launched in Progressive on 11th July. Mr. P K Shivashankar, medical plantation consultant, Oushadi inaugurated the plantation drive by handing over sampling to students donated by Oushadi pariyaram.
Yoga day was observed on 21st June.
School council election was held on 5th July
The school, in its quest to unlock and inculcate leadership qualities in students, organized investiture ceremony on 22nd July 2019. A dynamic team under the leadership of Swaliha Noushad of XII standard assumed their charges by oath taking. The students had an opportunity to exhibit their talents. The science Exhibition "Science in Action" was inaugurated by Mr. Mohammed Sajid PK , Academic Director. The students exhibited their outstanding talents through various experiments and models etc.
To sensitize the students towards caring for environment, a field trip was organized to Madayipara to discover its marvels. Our students became a part of 'Ponkadir-2019' - growing rice crops drive held in Ezhome panchayath.
Inspiro'19 Quran based competition, Kannur cluster organized by Integrated Education Council India (IECI) was hosted by Progressive on July 30 2019. Al-Falah high school, Peringadi bagged first place. Our school is an active platform for Malarvadi Club activity.
Prem Chand Jayanthi was celebrated on first August 2019. Mr. Manu HOD Hindi, Sri Shankaracharya University inaugurated the celebration. Speeches, workshops and skit were held as part of it. Communication skills are essential for the successful future career of a student. Progressive inaugurated public speaking forum on 3rd August with myriad of activities. Quit India day was observed on 9th August. 73rd Independence day was celebrated with gaiety and and color. Mr. VK Hamza Abbas ,Chairman, Wadihuda Group of Institutions enriched the occasion as the guest of honor, unfurled the National flag and delivered the Independence Day message
'Ormakalude manchotil-Alumni meet '19 was held on 15th August to ensure that the passed out students of progressive English School are still attached with the school. In times of need, it is our basic responsibility to help those who need it. With this thought, our students donated money for poor, flood victims and carried out cleaning works in flood affected areas.
Love and respect for their teachers and mentors was highlighted by our students at the programmes organized creatively by the school council on 5th September , Teachers Day.
Onam was celebrated on 5th September with a glimpse of nostalgic traditions. The students celebrated onam by setting up an attractive floral carpet. The Grand feast called 'sadhya' was arranged by the students and the traditional games added to the zest of the celebrations.
To unleash the creative talents of students Arts Fest was held on 21,22 of August. The inaugural session with Mr. Subin Lal, Flowers TV comedy Utsav fame, added variety to the event.
Evolve '19- A journey through river was organized for the students of class XII on 4th September and was flagged off by Mr. Mohammed Sajid PK Academic Director. Green day was celebrated in KG on 25th September.
Cleanliness is next to Godliness. Keeping this Moto in mind Gandhi Jayanti was observed on 2nd October by launching cleanliness drive in the campus. The school conducted Gandhi Smriti yatra and a study class on Gandhiji and children by Mr. Payyannur Kunhiraman.
'Chunky Tongue'- Food Expo'19 was arranged and the Fruits Day was celebrated in the month of October in primary and KG sections.
In a bid to create and English atmosphere in the campus, English campaign was organized in primary section and various competitions were held to enhance the good communication skills of students.
Rashtriya Ekta Divas was observed on 31st October.
Ente Keralam, Sundara Keralam- Keralapiravi was celebrated on 6th November in a befitting manner, which gave a platform for the students to boost their love and respect for their motherland.
'A holistic approach to education with emphasis on hand -on activities was the idea behind 'class magazines' made by students of our school. Each class from grade IV onwards prepared magazines, which were released by Mr. Suresh, renowned writer, on the occasion of inaugural ceremony of Kerala piravi celebrations.
Educational tours were organized for the students to provide an opportunity to collaborate with teachers and friends and integrate new perspectives with informal environment to enhance learning initiatives.
Under the auspices of Maths club, Math Week- 'Math O Crazy' was observed.
Children's day was celebrated on 14th November. The campus reverberated with loud squeals of joy and cheering, when the students got opportunity to play musical chair, passing the ball etc.
Athletes of progressive displayed the great flair on the sports field during annual sports day on 15th and 16th November.
The school celebrated its Annual Day "Progressive Utsav 2019" on 7th December . The fun filled extravaganza offered vibrant and joyful performances by the students and was indeed a visual treat that mesmerized the audience.
It was a proud moment for our school when one of our students, Swaliha Noushad visited NASA to attend space science conference after winning space Science contest, an essay competition.
We strive to make our students successful learners, confident individuals and responsible citizens. As part of their growing process, the students took active participation in model United Nation conference and progressive model United Nation conference etc.
Army day was observed on 15 January.
"Teachers are also learners". Staying updated is the key to success in any field, especially in Education. Our teachers constantly strive to stay updated by attending workshops and various training programs.
Aptitude test for class 10th students was undertaken to ascertain their capabilities and interest in different disciplines.
Heavens Pre-school celebrated its annual day and convocation ceremony 'Sidra 2020' on 29thFebruary 2020. The tiny tots' performances enchanted everyone with its spell and charm.
We are indeed very glad to announce that our student Swaliha VV was awarded with trophy and certificate instituted by women child development for her adventuresome activities towards the protection of environment.
Competitive exams are one way to give the students exposure. Our students strived to obtain in various achievements at LEAP talent search examination, Hikma etc.
To ensure that our students are equipped to face any challenge motivation classes, career counseling for parents and students were conducted.
To conclude, this year, we took more collective steps towards our vision, and while one step was taken, many more are to go, and it is certainly achievable.
Thank You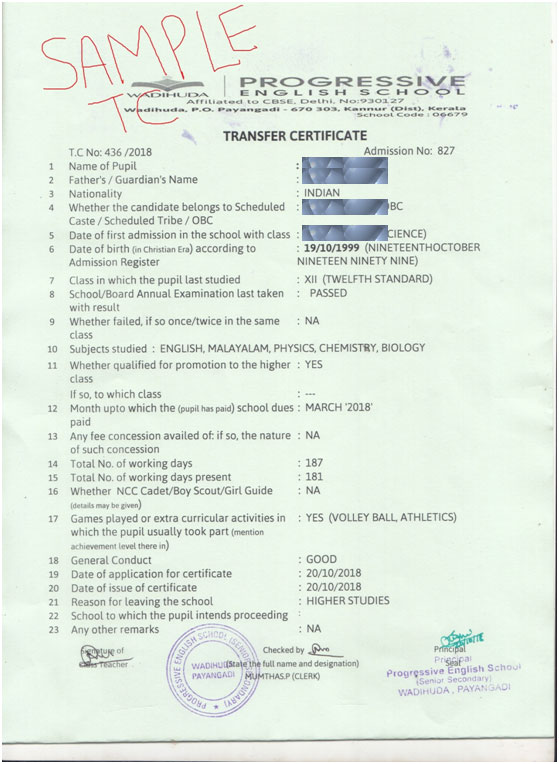 AFFIDAVIT:
I, A. MOHAMMED KUNHI, Son of Ibrahim Kutty, age 66 years, Secretary of TA'ALEEMUL ISLAM TRUST, WADIHUDA. P.O.PAYANGADI running the PROGRESSIVE ENGLISH SCHOOL-WADIHUDA, PAYANGADI do hereby solemnly affirm and sincerely state as follows:
1. That TA'ALEEMUL ISLAM TRUST, WADIHUDA. P.O.PAYANGADI is a registered trust under the Indian Trust Act Vide registration No: 13/95/ IV of S R O Kannur.
2. That TA'ALEEMUL ISLAM TRUST, WADIHUDA. P.O.PAYANGADI is of Non- Proprietary Character.
3. That the school is being run as a community service and not as a business and that commercialization does not take place in the school in any manner whatsoever.
4. That no part of income from the institution is being and will be diverted to any individual in the trust / School management Committee or to any other person/ entity. The saving, if any, after meeting the recurring and non-recurring expenditure and contributions to developmental, Depreciation and contingency funds, will be further utilized for promoting the school and extending the cause of education in the same school only.
5. That school is not paying any charges towards using name, motto, logo or any other non-academic activities to any other institution, organization or body.
6. That the school will not open classes under CBSE pattern particularly class IX/X/XI/XII and will not use CBSE name in any manner without obtaining affiliation.
7. That the Principal and Correspondent / manager of the school have individually gone through the provisions contained in the affiliation & examination byelaws and the circulars issued by the Board from time to time. The school undertakes to abide by the provisions contained in the affiliation & examination byelaws, directions issued from time to time and the law of the land.
8. That the school will ensure compliance of all statutory requirements like EPF, ESI and Labour Laws etc. with respect to the school and staff of the school.
9. That the school will ensure that the building Safety, Fire safety, water Safety, Health and Hygiene certificates are being issued or renewed by the concerned municipals or state authorities from time to time as per the prescribed term.
10. That the school will ensure that all required infrastructure is available with the school before starting classes.
11. That the school will ensure that sufficient number of qualified teachers as per the provision contained in affiliation bye-laws are available with the school before starting classes.
12. That the school will follow the provisions related to fee contained in affiliation bye-laws and will disclose the details of the fee to the students / parents every year before start of session without resorting to any hidden charges in the heads of the fee.
13. That the school will not coerce any student / parent to buy books / stationary / uniform from any particular shop.
14. That the school shall strive to make efforts for conservation of environment.
15. That the school will ensure that the school fulfills all essential requirement before applying for affiliation and will fulfill all other conditions post affiliation and comply with all the general rules as given in the affiliation byelaws or notified from to time.
That in case affiliation has been with certain conditions, the school will not start CBSE pattern classes without submitting a certificate / affidavit to the effect that the school has complied with all the conditions imposed by CBSE and the post affiliation conditions contained in affiliation byelaws along with general rules