CBSE
Requirement
SCHOOL PARTICULARS AS REQUIRED BY CBSE
1. Progressive English School, Wadihuda, P.O.Payangadi, Taluk-Payyanur, District-Kannur
(i) Email : info@progressive.edu.in
(ii) Telephones : 0497-2873587
2. Status of Affiliation : Affiliated to central Board of Secondary Education
(i) Affiliation No. 930127
(ii) Affiliation with the Board since : 1995
(iii) Extension of affiliation up to : March 31, 2020 (Applied for Extension of affiliation)
3. Infrastructure Details:
| Room | Number | Length (in ft.) | Breadth (in ft.) |
| --- | --- | --- | --- |
| Class Room | 61 | 6 | 6 |
| Composite Science Lab | 1 | - | - |
| Physics Lab | 1 | 16 | 6 |
| Chemistry Lab | 1 | 15 | 6 |
| Biology Lab | 1 | 12 | 6 |
| Mathematics Lab | 1 | 6 | 6 |
| Computer Science Lab | 1 | 12 | 6 |
| Library | 1 | 16 | 6 |
| Other Rooms | 3 | 16 | 6 |
4. Class wise strength of Students: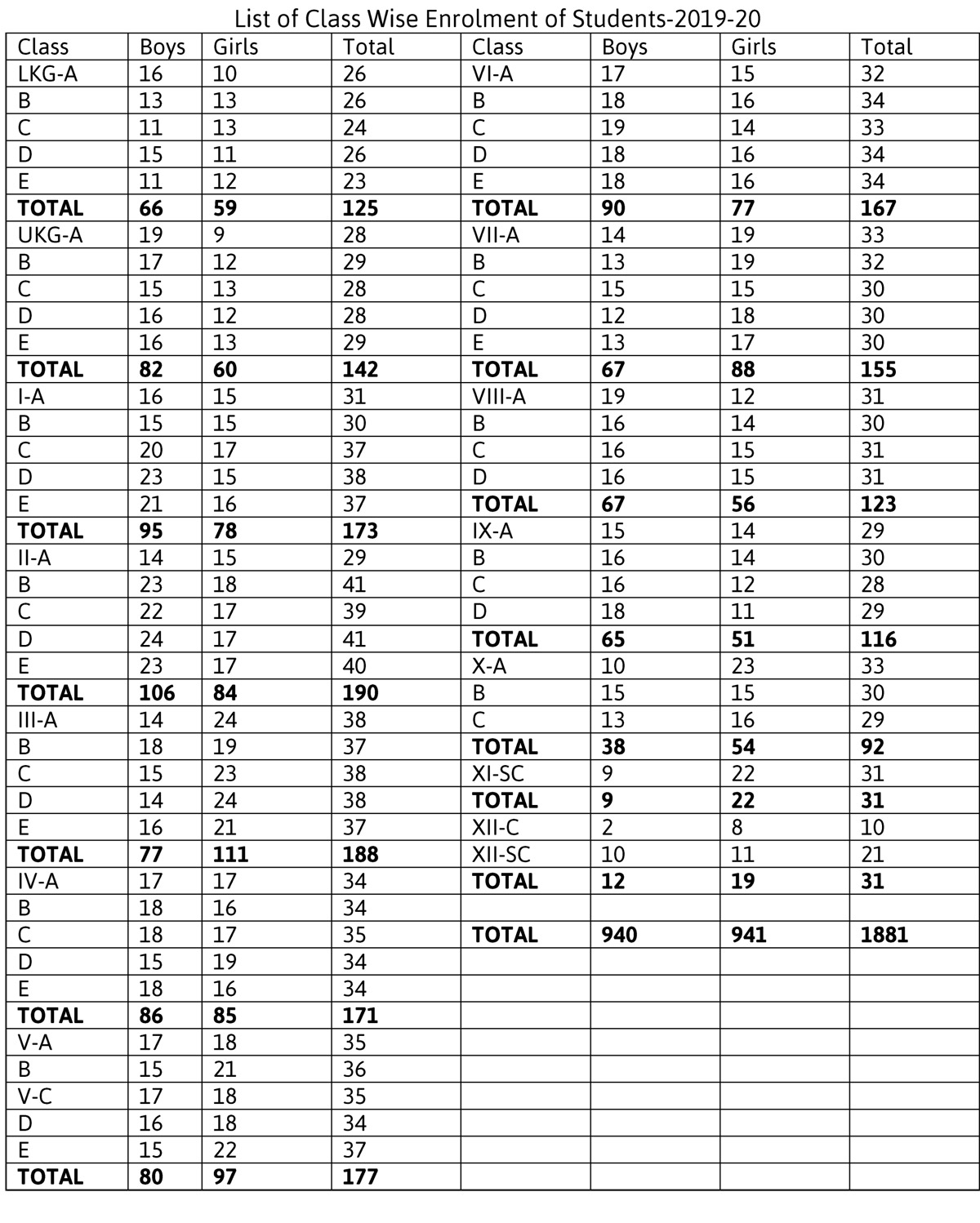 5. Fee Structure:
| Class | I Term | II Term | III Term |
| --- | --- | --- | --- |
| Play School | Rs 14,000 /- | 6,000 /- | 6,000 /- |
| LKG | Rs 13,750 /- | 7,600 /- | ---- |
| UKG | 13,750 | 7,600 /- | ---- |
| I | 14,360 /- | 4,660 /- | 4,510 /- |
| II | 14,425 /- | 4,725 /- | 4,575 /- |
| III | 14,810 /- | 5,110 /- | 4,960 /- |
| IV | 14,810 /- | 5,110 /- | 4,960 /- |
| V | 14,950 /- | 5.250 /- | 5,100 /- |
| VI | 16,440 /- | 5,740 /- | 5,590 /- |
| VII | 16,555 /- | 5,855 /- | 5,705 /- |
| VIII | 16,610 /- | 5,910 /- | 5,760 /- |
| IX | 18,135 /- | 6,435 /- | 6,285 /- |
| X | 18,135 /- | 6,435 /- | 6,285 /- |
| XI-COM | 16,325 /- | 6,625 /- | 6,475 /- |
| XI-SC | 17,960 /- | 8,260 /- | 8,110 /- |
| XII-COM | 16,325 /- | 6,625 /- | 6,475 /- |
| XII-SC | 17,960 /- | 8,260 /- | 8,110 /- |
6. Academic Calendar 2019-20: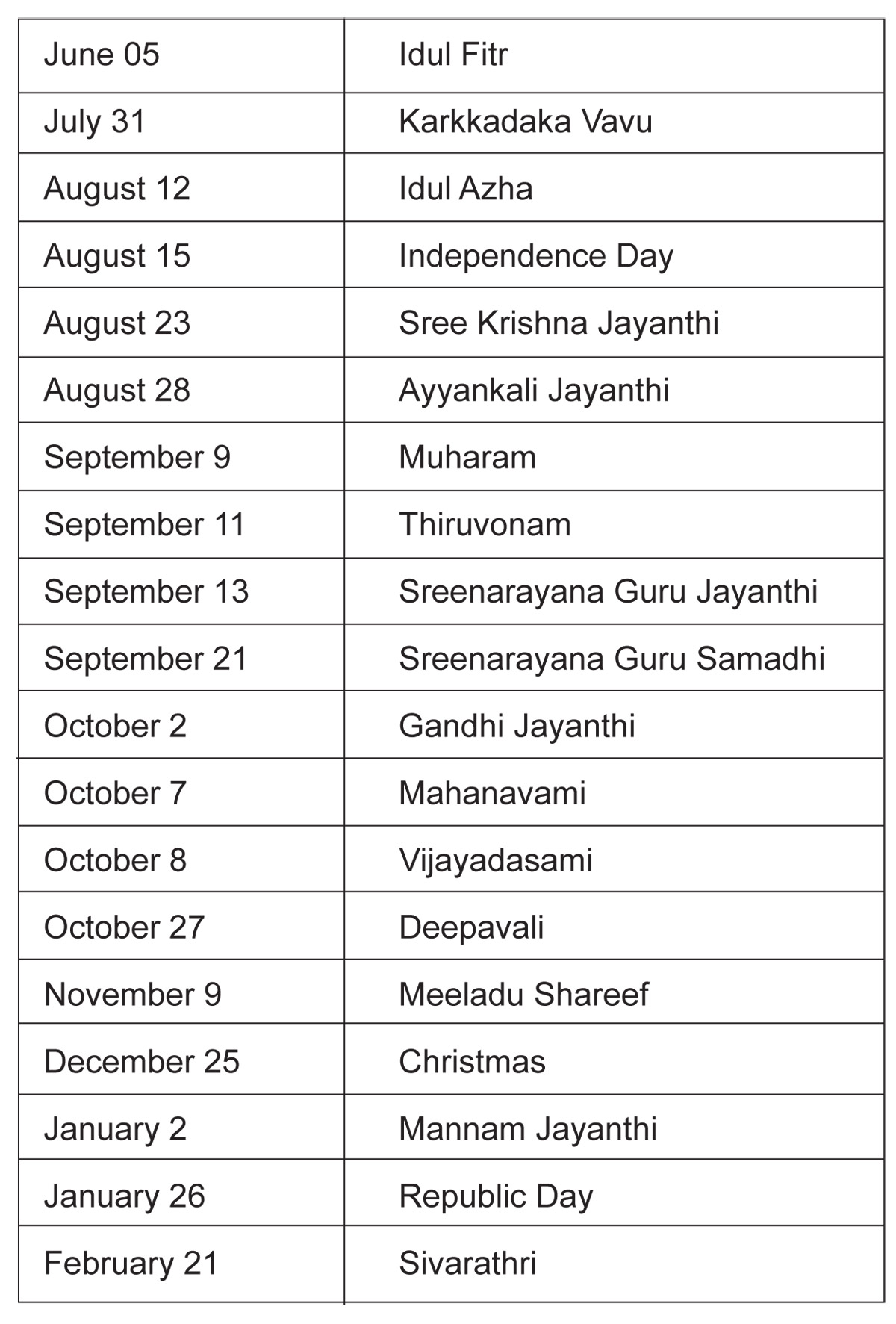 7: School Managing Committee:
| # | NAME | FATHER/SPOUSE NAME | DESIGNATION IN SMC | PHONE OFFICE | MOBILE | OCCUPATION WITH ADDRESS | RESIDENTIAL ADDRESS |
| --- | --- | --- | --- | --- | --- | --- | --- |
| | Mr. S A P ABDUSSALAM | P O P ABDULLAH HAJI | CHAIRMAN | 7025280177 | 9447643994 | MANAGING DIRECTOR, WADIHUDA GROUP OF INSTITUTIONS | MARWA , ERIPRAM , P.O.MADAYI, KANNUR-670304 |
| 1 | Mrs.SUJITHRA R | E K RAMAKRISHNAN | MEMBER SECRETARY | 4972871513 | 7025280179 | PRINCIPAL PROGRESSIVE ENGLISH SCHOOL P O PAYANGADI | SREE NARAYANALAYAM ADUTHILA P O PAYANGADI 670303 |
| 2 | Mr. MUHAMMED SAJID P K | A K ABDUL KHADER | MEMBER | 7025280187 | 9446706868 | ACADEMIC DIRECTOR OF WADIHUDA GROUP OFINSTITUTIONS | MEHFIL, MOTTAMBRAM, P.O. MADAYI , KANNUR -670304 |
| 3 | Mr. FAROOK USMAN | USMAN N | MEMBER | 7025280188 | 9895978400 | DIRECTOR ADMINISTRATION AND FINANCE, WADIHUDA | BUSHRA MAHAL, KOYAPPARA, P O KUNHIMANGALAM, KANNUR |
| 4 | Mrs. HASEENA V K | NASEEM K P | MEMBER | 9995181652 | 9995181652 | HOUSE WIFE, GRACE MOTTAMBRAM P.O.MADAYI KANNUR 670304 | GRACE MOTTAMBRAM P.O.MADAYI KANNUR 670304 |
| 5 | Mr. NAZEER M | EBRAHIM KUTTY E | MEMBER | 9447074917 | 9447074917 | BUSINESS MAILANCHIKKAL MARAKKAVALAPPIL P O PAYANGADI | MAILANCHIKKAL MARAKKAVALAPPIL P O PAYANGADI |
| 6 | Mrs. ROOPA O P | MOHANAN P P | MEMBER | 4972873587 | 8547961922 | TEACHER PROGRESSIVE ENGLISH SCHOOL P O PAYANGADI | SREERAGH ALAVI (P.O) PUTHIYAPPARAMBA KANNUR-670358 |
| 7 | Mr. YAHIYA V U | P K UMMER | MEMBER | 4972873587 | 7025280178 | VICE PRINCIPAL PROGRESSIVE ENGLISH SCHOOL WADIHUDA | ANUGRAHA SHANTHI GIRI CHAPPARAPADAV (P.O) KANNUR |
| 8 | Mr. ABDUL MAJEED P | ALI A | MEMBER | 9446646294 | 9495546294 | TEACHER , GOVT HIGH SCHOOL, TRIKKARIPUR | FAREEDA NIVAS, N/R GRAMIN VAYANASALA, P.O.MATTOOL |
| 9 | Mrs. KHADEEJA S V P | ABDUL KHADER T V | MEMBER | 4972844725 | 9447936964 | TEACHER, MRUP SCHOOL MATTOOL | LOVE DALE, MUTTAM, P.O.VENGARA, KANNUR-670304 |
| 10 | Dr. RANI S D | MANI LAL | MEMBER | 4972805063 | 9562041363 | PRINCIPAL KENDRIYA VIDYALAYA EDAT PAYYANNUR-671314 | PRINCIPAL QUARTERS KENDRIYA VIDYALAYA PAYYANNUR-671314 |
| 11 | Mr. MURALIDHARAN T | Late NEELAKANDAN T | MEMBER | 4985224000 | 9446011714 | PRINCIPAL KENDRIYA VIDYALAYA EZHIMALA | N/R-KORAN PEEDIKA PARIYARAM KANNUR |
| 12 | Mrs. SAJIDA P T P | V K ABDULLA | MEMBER | 9895493943 | 9895493943 | HOUSE WIFE, THANAL, P.O.VELLUR, PALATHARA, KANNUR-670307 | THANAL, P.O.VELLUR, PALATHARA, KANNUR-670307 |
| 13 | Mrs. SHAREEFA HARIS | M V C MOIDEEN | MEMBER | 9961417107 | 9961417107 | HOUSE WIFE, SANTHWANAM, N/R-OLD JTS ERIPURAM, P.O.PAYANGADI | SANTHWANAM, N/R-OLD JTS ERIPURAM, P.O.PAYANGADI |
| 14 | Mrs. JAMEELA | MAMU PALASSERI | MEMBER | 4985201374 | 9947735114 | TEACHER, LATHEEFIYA ARABIC COLLEGE, PERUMBA | AMINA MANZIL, P.O.PAYANGADI (RS), KANNUR-670358 |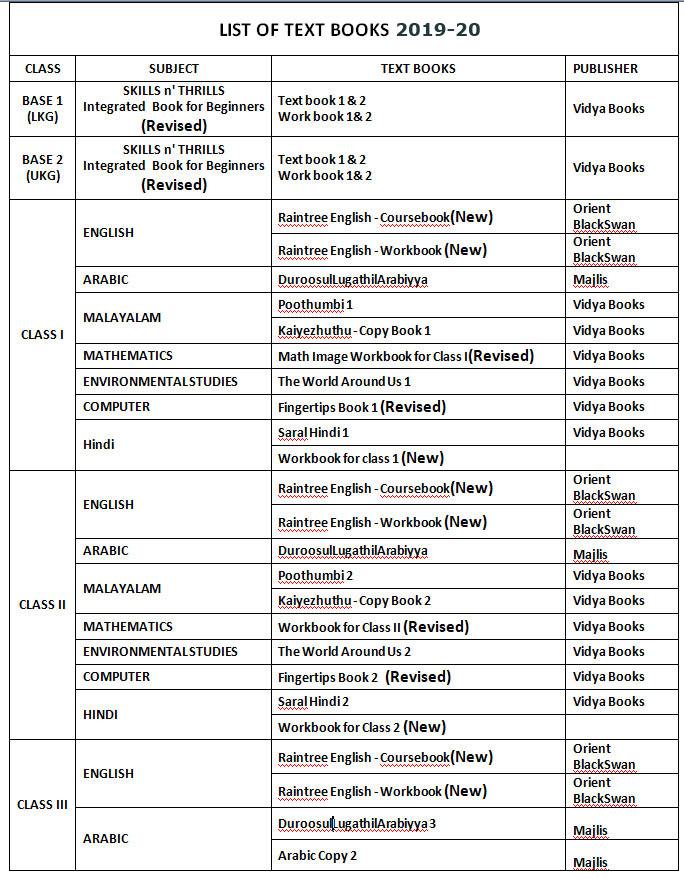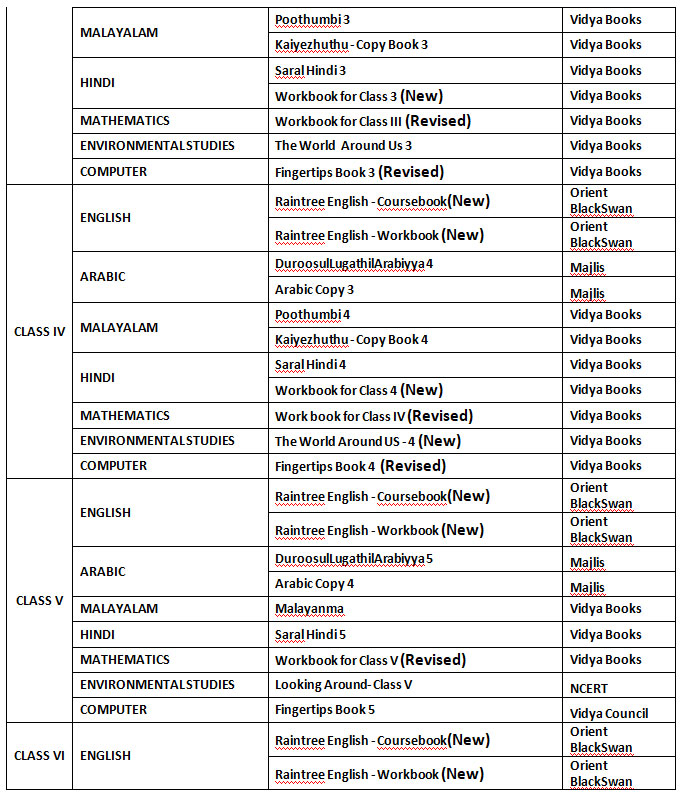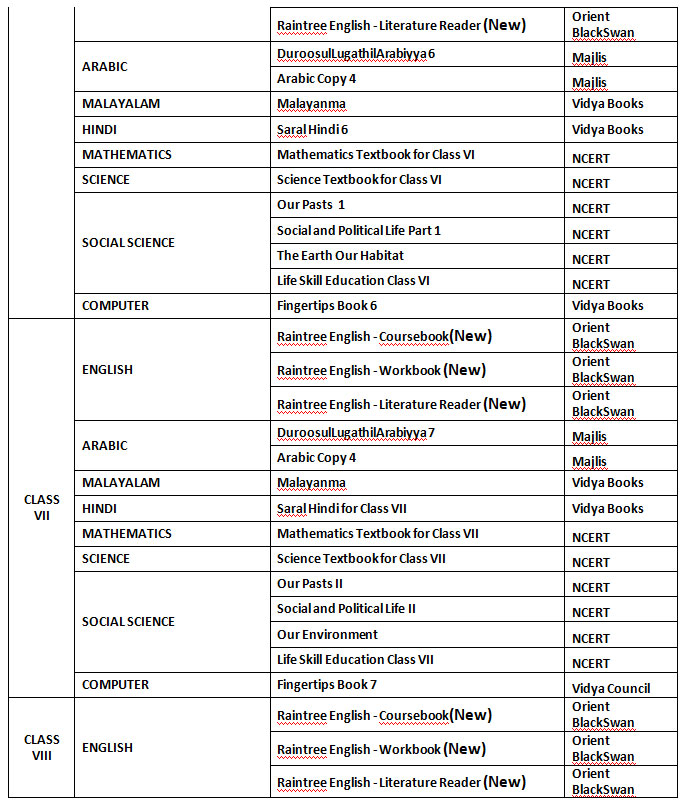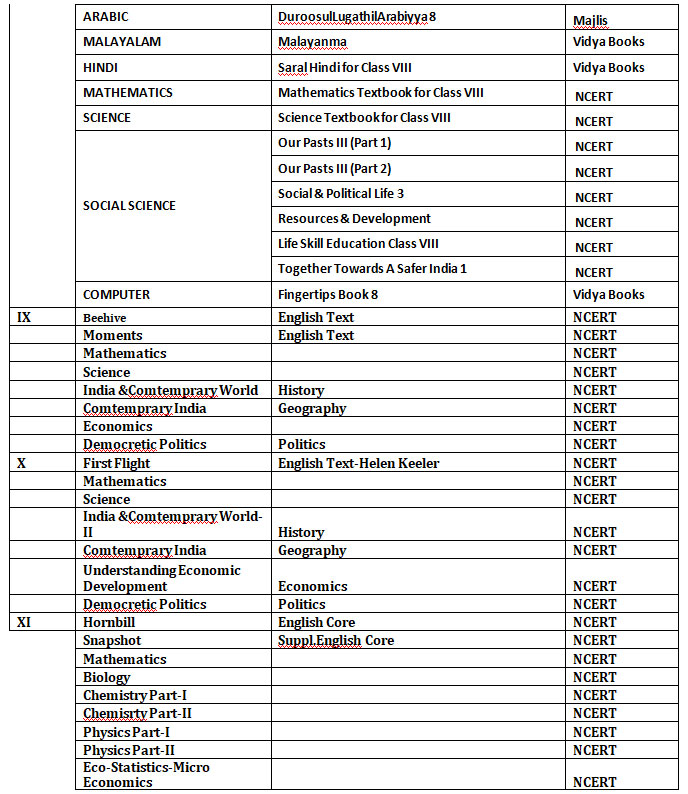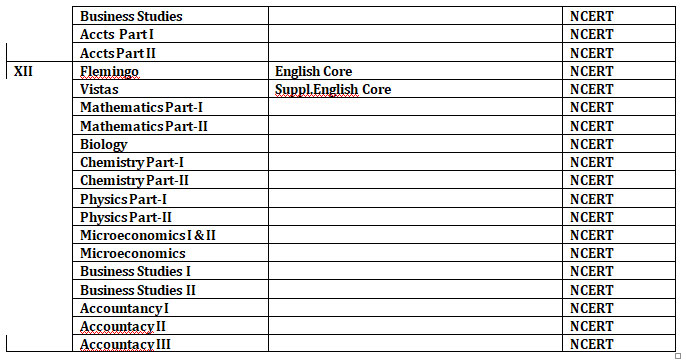 8. Annual Report 2018-19
The Annual Report depicts the achievements and accolades of our school. It provides a detailed account of the programs and progress of the Progressive. We strive for excellence in everything we do. We provide opportunities for students to achieve excellence in academic, cultural, leadership; social endeavors etc… and train them to thrive as a unique individual.
Nature provides nourishment and beauty for life. Progressive has taken a giant step to encourage awareness and action for the protection of environment among the students by celebrating World Environment Day. Teachers as well as the students participated in the plantation ceremony to mark the importance of the day and join in the 'Go Green' effort. To encourage and foster reading habits among students we celebrated Vayanavaram with an array of colorful literary activities. Under the auspices of Primary Wing 'Refugee Day' was observed in the campus. Many charts were displayed in the passageways which highlighted the need to be empathetic towards those rendered homeless. To express their solidarity palm prints were inscribed on the white wall put up in the campus. An awareness class on 'Drug Abuse' was presented by Mr.Sugesh Kumar, Preventive Officer, Kannur on International Drug Day. The program helped the teenagers to aware of the fatal consequences of consuming drugs.
In keeping with the school's policy of continuous upgradation of knowledge and skills our teachers attended ICT Training Workshop. It enables them to develop classroom resources and accessing online resources of the 21st century skills. 'World Population Day' was observed under the aegis of Social Science Club. A speech on 'Population Explosion' was conducted for the students of class VIII. Kindergarten conducted 'Red Day Activity' to introduce the children to the realm of colours. The class was decorated with red colour hangings like red cherries, red apples etc… Indeed all the children enjoyed this practical learning experience. Leadership is the capacity to translate vision into reality. In order to create awareness school parliament election was organized for the students. The voting process was led by four polling officers. The names of the contestants for each post were displayed on the computer screen. Students were asked to click on the names of their choice.
The school clubs, 'Creative pod' was inaugurated by Dr.V.K.Janardhanan, Principal, S.N.E.C, Korom. The club activities would give a platform to boost up the hidden talents and spirits of the students. In order to meet the challenging needs of the corporate world environment Commerce Club conducted Quiz competition for the students of class XI and XII. The competition opened doors to meet the challenges in the current scenario. 'Investiture Ceremony' – the official ceremony of conferring titles and investing powers to the members of school council was organized in the school auditorium. The event blessed with the presence of Mr.Binu Mohan.A.P. Sub Inspector of police, Payangadi. To relieve the children from the monotonous indoor activities, the students of nursery were brought out in the open with umbrella and rain coats to experience and enjoy the playful rainy weather. The School celebrated India's 72nd Independence Day with great zeal and patriotic fervor. The campus was decorated with Indian Flags. The celebration began with the unfurling of the national flag followed by a speech with patriotic zeal by the Chairman, Mr.V.K.Hamza Abbas. Arts Fest individual item competitions were conducted on August. Many young and energetic talents took to the stage and delivered a host of performance.
'A Wake up Call to Humanity' – We organized an Awareness Program in the school auditorium appealing to the students to come forward and help the victims of floods and do the best in terms of contributing. Mr.Jayamohan, Administrator, Hope Charitable Society, Pilathara spoke on the occasion. He said "people from all walks of life irrespective of political, religious beliefs joined together to face the difficult situation – the spirit of solidarity had been amazing." A team of our teachers and students rendered their service in the flood affected areas.
Progressive launched a massive Tree Plantation Drive to spread the message 'Protecting the environment is the need of the hour'. Teachers' Day was celebrated with great gusto and gaiety. Students of class XI and XII took over the duties of the teachers for the day. On this cheerful occasion all the teachers were awarded with mementos as an honor for their sincere efforts to impart knowledge to the students. Literacy Day was celebrated in to highlight the importance of literacy. As an initiative to prevent vector-borne diseases, Dry Day was observed under the guidance of commerce club. Students checked water stagnated areas, water containers, scraps and other possible mosquito breeding sites and took preventive measures.
Progressive organized two days residential training camp 'EVOLVE-2019' for students to provide an open platform to interact and learn about practical leadership. The camp allowed the students to relax their mind in a refreshing environment and learning the basic lessons of leadership and communal harmony. Little buds Kindergarten celebrated 'Grandparents Day'. Gathering of grandparents and grandchildren added grace to the event. It was a thrilling experience to tiny tots. Surprise gifts were distributed to the grandparents. The school council conducted a power point presentation on 'Anti-Drug and Healthy Food'. Students were sensitized about the importance of eating balanced diet and it also strongly advocated that one must remain away from alcohol, smoke and stress to lead a happy life.
We celebrated 'Kerala Piravi' to acknowledge the students about the traditional value and culture. The entire school assembly was in Malayalam and it witnessed a variety of programs depicting the love for Kerala and Malayalam.Teachers and the students of class X paid a lovely visit to the Orphanage, Mariabhavan, Mathamangalam as part of HPE SEWA project. Students lent a helping hand to the inmates by raising funds.
A number of orientation classes were organized to ensure the holistic development of the students. The classes were handled by Mr.N.M.Hussain, Research Scholar,Ms.Priya.T, Assistant Professor of Psychology WIRAS, Mr. Nirmal Kumar ,Trainer,Ms.Thressiya Babu, NTSE Orientation Resource person, Dr.Suresh Kumar, Psychologist, Dr.Joselet Mathew, Former Principal, Nirmalagiri College, Mr.K.P.Ashif, WICE and Mr.Musthafa, Trainer. To commemorate the healthy growth, happiness and innocence that a child brings into the World Children's Day was observed enthusiastically. School council arranged several fun and entertaining games for students to brighten up their special day. The much awaited Annual Sports Meet was held with great mirth camaraderie. The meet was inaugurated Mr.S.A.P.Abdussalam, Managing Director. Arabic language is the pillar of cultural diversity of humanity. International Arabic Day was observed on December 18,with lots of programmes and activities.
Progressive Model United Nations hosted its first conference on December. Nearly 60 students attended the conference, participating in committee with serious topics such as cyber-crime, labor rights etc… Mathematics Day, Stigma 2018-2019 was organized to commemorate the birthday of Sri Srinivasa Ramanujan. The maiden event in the history of Progressive, 'Prowess'19-Teachers Fest brought up the teachers' talent by recognizing and nurturing it to let it bloom. The prime intention of pulling up a feast is to allow teachers a period of recreation and replenish them with new vigour and enthusiasm.
Benchmark-19 – one week English Campaign was held to make students to feel closer to English language and help in communicate with others. Many instant competitions were conducted during recess time. Photography Exhibition was held in the school seminar hall from February 7 -13. The exhibition was inaugurated by Professor Junaid.P.A, Principal, WIRAS. The budding artists displayed their talents in the form of paintings and photographs. The portraits drawn by Ms.Mallika Swathi, Art teacher, captured the attention of all the visitors.
Progressive conducted the grand function of Silver Jubilee Magazine release and Guinness world record award presentation on February 26. Mr.Parakkadav, the eminent writer released the school magazine. The Guinness World Record Award presentation was done by Mr.Muhammed Kunhi, General Secretary, TIT. Karate Belt Award ceremony was held to celebrate the achievements of the student. Mr.Pavithran.P.V, Station Officer, Fire and Rescue Station conferred titles to the winners. We celebrated KG Annual Day and Graduation Ceremony with great pomp and glory. The cultural extravaganza was interspersed with most important event of the day, the graduation of KG students.
A ceremonial reception was arranged to honour Mr.Muhammed Abdul Jaleel, Progressive Alumni 2011 batch, who cleared Civil Services Exam with 434th rank.While offering felicitation all the invited guests advised him to work for upliftment of the common people. It was acclaimed that this was an inspiration to the Progressivians to climb greater heights in life.
Excellence in academics is the hallmark of any institution. The academic prowess of Progressive proved again with 100% success in class X and XII examinations. We are proud to report that 2018-2019 batch of X and XII students have brought laurels to the school by their excellent results.
The school is fortunate to have a team of committed, competent teachers whose passion for teaching; relentless work and love for the school have played a vital role in achieving success in all the endeavors. We are privileged to partner with the parents whose trust, understanding and the support is a source of motivation for us. It's our students who made all our efforts a meaningful and grand success. Here we assure you our continuous commitment to the cause of education.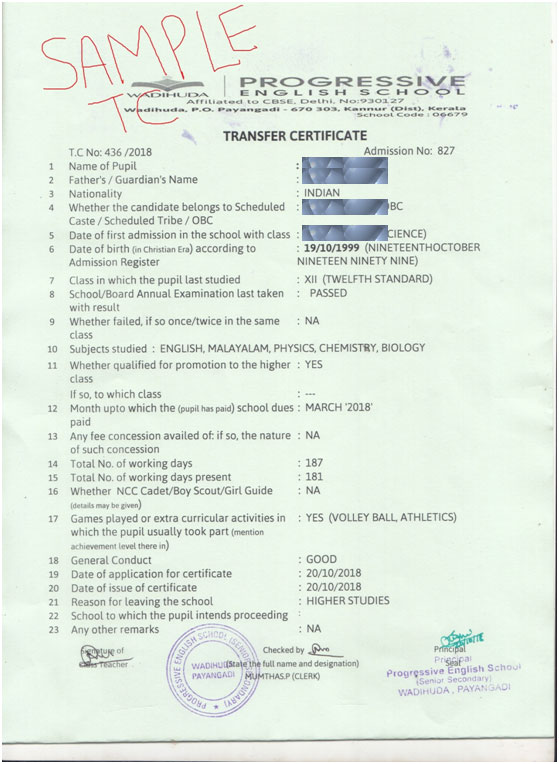 AFFIDAVIT:
I, A. MOHAMMED KUNHI, Son of Ibrahim Kutty, age 66 years, Secretary of TA'ALEEMUL ISLAM TRUST, WADIHUDA. P.O.PAYANGADI running the PROGRESSIVE ENGLISH SCHOOL-WADIHUDA, PAYANGADI do hereby solemnly affirm and sincerely state as follows:
1. That TA'ALEEMUL ISLAM TRUST, WADIHUDA. P.O.PAYANGADI is a registered trust under the Indian Trust Act Vide registration No: 13/95/ IV of S R O Kannur.
2. That TA'ALEEMUL ISLAM TRUST, WADIHUDA. P.O.PAYANGADI is of Non- Proprietary Character.
3. That the school is being run as a community service and not as a business and that commercialization does not take place in the school in any manner whatsoever.
4. That no part of income from the institution is being and will be diverted to any individual in the trust / School management Committee or to any other person/ entity. The saving, if any, after meeting the recurring and non-recurring expenditure and contributions to developmental, Depreciation and contingency funds, will be further utilized for promoting the school and extending the cause of education in the same school only.
5. That school is not paying any charges towards using name, motto, logo or any other non-academic activities to any other institution, organization or body.
6. That the school will not open classes under CBSE pattern particularly class IX/X/XI/XII and will not use CBSE name in any manner without obtaining affiliation.
7. That the Principal and Correspondent / manager of the school have individually gone through the provisions contained in the affiliation & examination byelaws and the circulars issued by the Board from time to time. The school undertakes to abide by the provisions contained in the affiliation & examination byelaws, directions issued from time to time and the law of the land.
8. That the school will ensure compliance of all statutory requirements like EPF, ESI and Labour Laws etc. with respect to the school and staff of the school.
9. That the school will ensure that the building Safety, Fire safety, water Safety, Health and Hygiene certificates are being issued or renewed by the concerned municipals or state authorities from time to time as per the prescribed term.
10. That the school will ensure that all required infrastructure is available with the school before starting classes.
11. That the school will ensure that sufficient number of qualified teachers as per the provision contained in affiliation bye-laws are available with the school before starting classes.
12. That the school will follow the provisions related to fee contained in affiliation bye-laws and will disclose the details of the fee to the students / parents every year before start of session without resorting to any hidden charges in the heads of the fee.
13. That the school will not coerce any student / parent to buy books / stationary / uniform from any particular shop.
14. That the school shall strive to make efforts for conservation of environment.
15. That the school will ensure that the school fulfills all essential requirement before applying for affiliation and will fulfill all other conditions post affiliation and comply with all the general rules as given in the affiliation byelaws or notified from to time.
That in case affiliation has been with certain conditions, the school will not start CBSE pattern classes without submitting a certificate / affidavit to the effect that the school has complied with all the conditions imposed by CBSE and the post affiliation conditions contained in affiliation byelaws along with general rules